Clinical Dental Technicians (CDT's) are registered Dental Care Professionals (DCP's), who are regulated by the General Dental Council.
Qualifying as a clinical dental technician involves years of intensive study that exceeds dental technician's training through additional modules in sciences, clinical skills and customer care. Their position allows them to offer patients direct treatment for the construction, repairing and fitting of removable dental appliances. Whilst dentists and clinical dental technicians work independently of each other, they may confer on treatments when it is in the best interest of the patient.
Whilst most commonly used by denture-wearers, clinical dental technicians can offer a range of services, including advice on oral health. Along with performing technical and clinical procedures for removable dental appliances, clinical dental technicians can carry out intensive clinical examinations to search for oral abnormalities and refer patients to other health care professionals where necessary.
The scope of practice for clinical dental technicians is specific to ensure the safety and well-being of patients. If you are a patient who feels that they are being provided with services outside the technician's job description, it is important to report it to the correct authorities.
Qualified CDT's have undertaken extensive training to be able to provide a range of denture products to the public.
Spencer Greening Dip CDT RCS (Eng)
I first qualified as a dental technician in 1993 and have owned a successful dental laboratory for over 30 years. Having realised the ever-increasing demand for high-quality prosthetics, I completed a Diploma in Clinical Dental Technology which enabled me to see and treat patients directly. In order to keep up with the latest techniques and trends, I regularly attend courses and seminars in this particular field.
I am currently working for practices in Stratford, Alcester, Leamington Spa, and Redditch. I provide patients with prosthetics, ranging from simple partial dentures to complex implant retained dentures handcrafted with great attention to detail for optimum aesthetics and comfort.
Outside of work I enjoy spending time with my wife and children, DIY projects and playing golf (when I get the time)!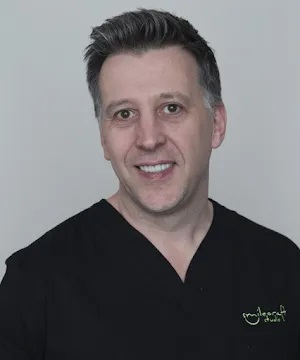 Clinical Dental Technicians are registered Dental Care Professionals (DCP's), who are trained and qualified to provide a range of denture services direct to patients – services that were previously only available through your Dentist. With many years' experience working as Dental Technicians, CDT's have the advanced technical and clinical skills needed to carefully design and hand-craft every denture to the individual requirements of the patient.
You will find CDT's working as part of a multi-disciplinary team within dental practices, or operating from their own independent denture clinic. Clinical Dental Technicians have to undergo rigorous training and evaluation. Every Clinical Dental Technician listed on dentures.org.uk has the credentials, qualifications and registration with the General Dental Council that allows them to work directly with patients. 
What will my appointment with a Clinical Dental Technician involve?
Patients who have experienced total tooth loss can be treated by a Clinical Dental Technician directly who will make and fit their complete dentures. However, if you need partial dentures or you have dental implants or some of your own natural teeth remaining, you must first be seen by a Dentist before a CDT can begin your treatment. Your CDT will advise you at your initial consultation.
Your Clinical Dental Technician will describe the different types of dentures available and the technical procedures involved so you can make an informed choice about the treatment you receive. Together, you and your CDT can then decide upon the right solution for you.
In order to create a detailed treatment plan that is tailored to your needs, your CDT will undertake a detailed clinical evaluation and may refer you to a Dentist or Implant Dentist.
The CDT may undertake one or all of the following:
Investigate your dental and medical history in full
Take X-rays and photographic images of your mouth
Distinguish between normal and abnormal effects of aging, especially relating to tooth loss
Make referrals to other dental professionals where necessary
Advise you on how to take care of your dentures and achieve optimum oral health
I'm a partial denture wearer. Why would I need to see a Dentist as well?
To plan your treatment correctly, your CDT together with the Dentist will need to consider any possible complications that might require treatment now and in the future. Together the Dentist and CDT would also consider what dental treatment may be needed to prepare your mouth for a new partial denture.
Also –
You may have gum disease present and this may have a bearing on a new partial denture
They will discuss findings from any dental X-rays
They will consider your previous dental history
They will agree which of your remaining natural teeth can be used to retain your denture and which type of partial denture design would be best for you.
Bellissima Clinic
The Green, Tanworth in Arden, Solihull, B94 5, United Kingdom
My Dentist
49 Plains Road, Mapperley, Nottingham, NG3 5JU, United Kingdom
Cape Road Dental Practice & Impant Centre
9 Cape Road, Warwick, CV34 4JP, Warwickshire, United Kingdom
New Road Dental
68 New Road, Bromsgrove, Bromsgrove, B60 2LA, United Kingdom
Your local reliable dental technician
info@smilecraftstudio.com
52 Feckenham Rd, Headless Cross, Redditch, B97 5AL
SMILE CRAFT STUDIO LIMITED, registered as a limited company in England and Wales under company number: 08834273. Registered Company Address: Chaceley, 52 Feckenham Road, Headless Cross, Worcestershire, England, B97 5AL